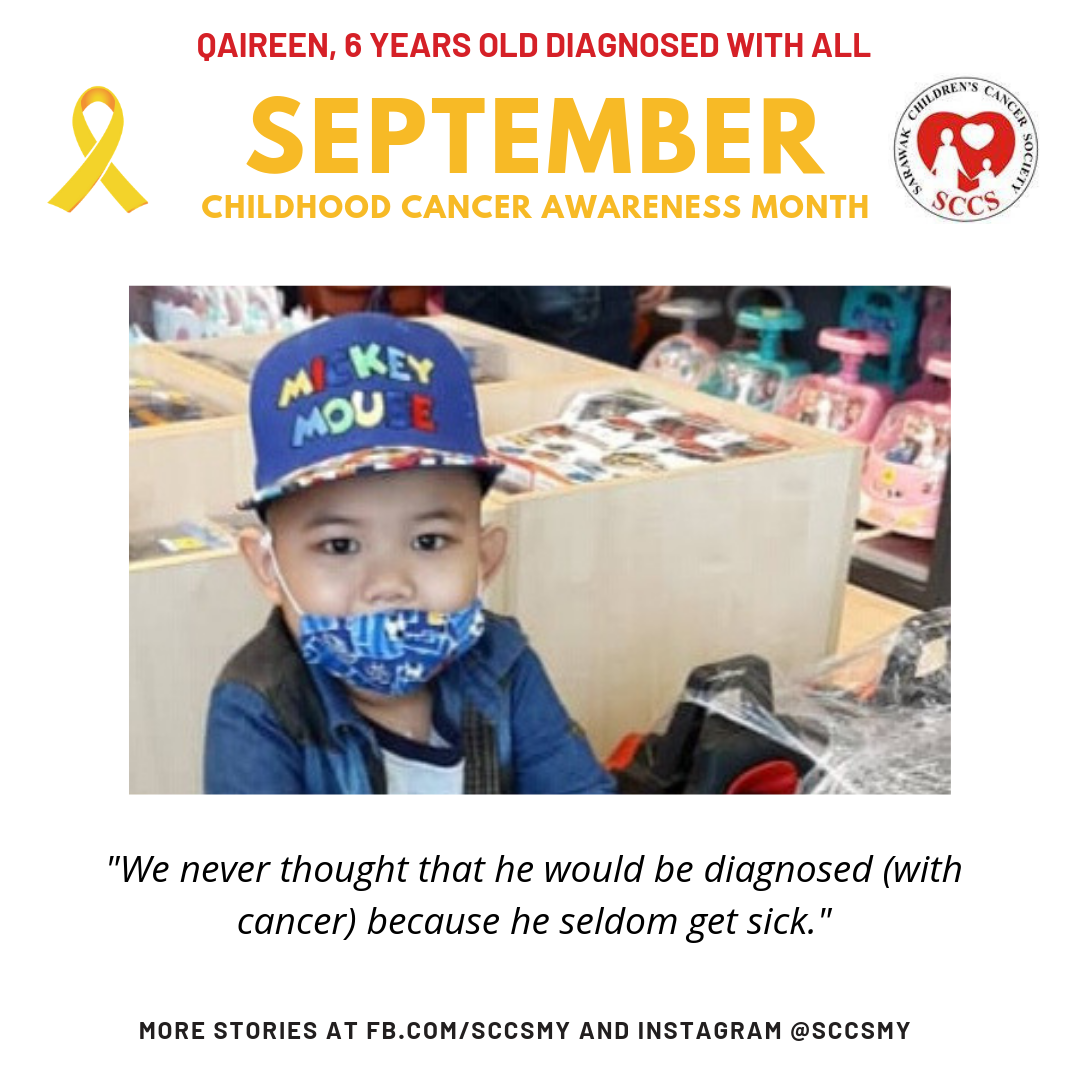 We need your help and everyone's help to support them. We need to show them that we all have their back and is doing our part in their journey of fighting childhood cancer.
You can help by either contributing financially to our cause, or to take part in our efforts to support them. Of course, it would be best if you can do both!
6 September 2019
Qaireen, berumur 6 tahun, berasal dari Miri dan merupakan anak kedua dalam keluarga. Dia sedang menerima rawatan di HUS, dia didiagnosis dgn Acute Lymphoblastic Leukimia pada 19 June 2019. Qaireen merupakan seorang kanak-kanak yang pemalu dan tidak banyak ragam, amat mudah untuk menjaganya sejak dari lahir. Tidak pernah terlintas di fikiran tentang penyakit ini, kerana dia jarang jatuh sakit dari kecil. Bila disahkan menghidap penyakit ini, ibu dan bapa terkejut namun redha dengan ketentuannya dan sentiasa bertanya dan berkongsi pengalaman dengan mereka yang senasib.
Keluarga ini juga amat bersyukur kerana diberikan tempat kediaman seperti SCCS Centre untuk mereka menginap dan khidmat pengangkutan untuk memudahkan urusan seharian serta meringankan beban keluarga. Ketika masa lapang di centre, Qaireen akan mengisinya dengan melukis kereta kegemarannya. Qaireen juga gemar hadir ke sekolah dalam hospital jika berkesempatan semasa menunggu rawatan seterusnya.
Harapan besar untuk nya adalah untuk sembuh dari penyakit dan boleh kembali ke kampung halaman dan bersekolah seperti sediakala dan berdoa agar kanak² lain yang senasib dengannya agar sentiasa tabah menghadapi dugaan dan sembuh seperti sediakala.